***Language Fair – European Day of Languages 2022***
 Learn some Maltese (it's more than iva, le and mela!) 
 Try a European language: French, German, Spanish, Hungarian, Latvian and more! 
 Try your hand at sign language 
 Readings in different languages 
 Alexandra Alden live in concert 
 Get your hands on some cool European Day of Languages gear 
Participation is free and open to everyone. 
***Fiera tal-Lingwi – Jum Ewropew tal-Lingwi 2022***
 Ipprova lingwa Ewropea: Franċiż, Ġermaniż, Spanjol, Ungeriż u oħrajn! 
 Tgħallem ftit lingwa tas-sinjali 
 Qari b'lingwi differenti 
 Kunċert ta' Alexandra Alden 
 Se jkun hemm ukoll ħafna affarijiet sbieħ tal-Jum Ewropew tal-Lingwi għalikom 
European Commission

Sunday 25 September 2022, 09:00 - 12:00 (CEST)

Sliema, Malta
Practical information
When

Sunday 25 September 2022, 09:00 - 12:00 (CEST)

Where

St. Anne Square Pjazza Sant'Anna

Languages

English, Maltese

Website
Description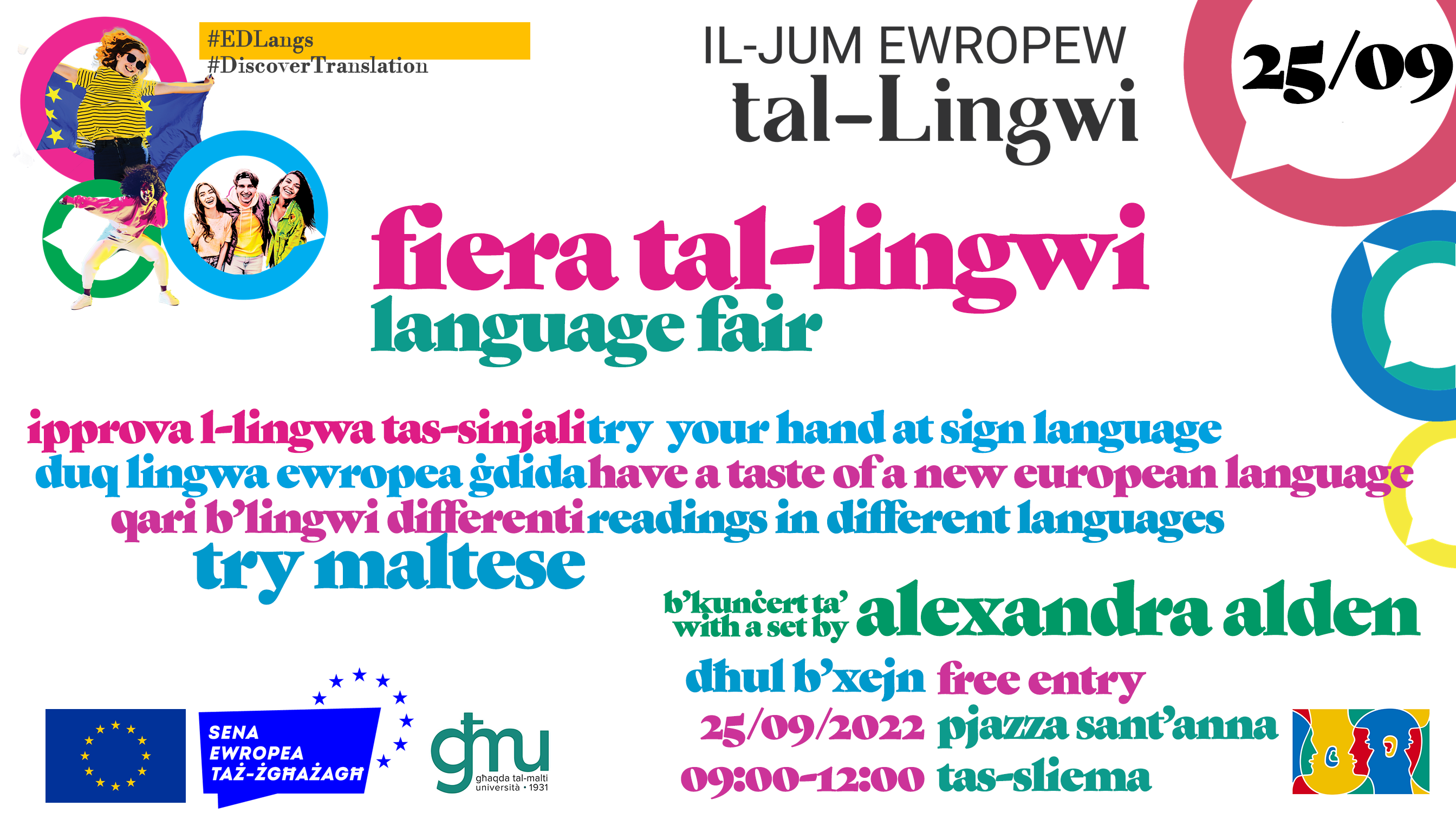 The European Day of Languages celebrates Europe's rich linguistic heritage, and on Sunday, 25 September, we will have a small language fair to open a window onto this heritage. You will have the opportunity to try your hand at different European languages with native speakers, including French, Spanish, and even Hungarian.
Foreigners living in Malta will be able to learn some more Maltese apart from "mela", while members of deaf people's associations in Malta will be there to teach Maltese sign language to participants. There will also be readings in different languages, as well as a live set by Alexandra Alden. There will also be material related to languages, including games, books and even t-shirts.
Participation is free and open to everyone. The event is being organised by the European Commission and l-Għaqda tal-Malti, with the participation of the National Council for the Maltese Language, the Maltese Sign Language council, the Spanish Embassy in Malta, the Embassy of Hungary in Rome, the Akkademja tal-Malti, the Department of German at UOM, Alliance Francaise, the Maltese Sign Language Council, the Deaf People Association Malta, the Deaf Youth Association Malta, Inizjamed, Global Translation Solutions, as well as other volunteers, with the support of Danusan.
---- 
Il-Jum Ewropew tal-Lingwi jiċċelebra l-wirt lingwistiku għani tal-Ewropa, u nhar il-Ħadd, 25 ta' Settembru, se jkollna fiera ċkejkna tal-lingwi biex niftħu tieqa fuq dan il-wirt. Se jkollok iċ-ċans li tipprova lingwi Ewropej differenti ma' kellima nattivi, fosthom il-Franċiż, l-Ispanjol u saħansitra l-Ungeriż. 
Il-barranin li jgħixu Malta se jkunu jistgħu jitgħallmu ftit iktar kliem bil-Malti apparti minn "mela", filwaqt li se jkun hemm membri mill-għaqdiet tal-persuni neqsin mis-smigħ li se jkunu qed juruna l-lingwa tas-sinjali. Se jkun hemm qari b'lingwi differenti, kif ukoll kunċert ta' Alexandra Alden. Se jkun qed jitqassam ukoll materjal b'rabta mal-lingwi, inkluż logħob, fuljetti u flokkijiet.
L-attività hija organizzata mill-Kummissjoni Ewropea flimkien mal-Għaqda tal-Malti, bis-sehem tal-@Kunsill Nazzjonali tal-Ilsien Malti, il-Kunsill tal-Lingwa tas-Sinjali Maltija, l-Ambaxxata ta' Spanja, l-Ambaxxata tal-Ungerija f'Ruma, l-Akkademja tal-Malti, id-Dipartiment tal-Ġermaniż l-Università ta' Malta, l-Alliance Francaise, l-Għaqda Persuni Neqsin mis-Smigħ, l-Għaqda Żgħażagħ Neqsin mis-Smigħ, Inizjamed, Global Translation Solutions, u voluntiera oħrajn, bl-appoġġ ta' Danusan.